Mount Kilimanjaro Trek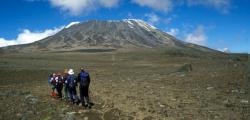 Marangu Route
The Marangu or main route is by far the most popular way to the summit. The accommodation on the way up and down is provided in mountain huts with all the basic necessities. It usually takes 5 days/4 nights round-trip. The trek can be taken in 6 days/5 nights to add acclimatization with an extra day at Horombo Hut.
Day 1
Pick up from Arusha town or Kilimanjaro International (JRO) Airport and transfer to Moshi town. Half board accommodation at a base hotel in Moshi.
Day 2
After breakfast and a short tour briefing from the guide, we will depart to Marangu gate of Kilimanjaro National Park (it is a 50-min drive from Moshi to Marangu Gate). Upon registering with park authorities, our climb will officially commence with a four-hour walk to the Mandara encampment. We will pass through a thick rainforest zone, high chance of rain in the afternoon. We will spend the night at Mandara Hut (2,750m). Bathrooms are available with running water.
Day 3
Today we will continue our ascent through the forest for a short time, before reaching the heather and moorland zone at roughly 3,000m (approx. a 6 hour walk). Enjoy stunning views of the mountain peaks at this altitude. We will spend the night at Horombo Hut (3,720m). Bathrooms are available with running water.
Day 4
Our trek continues past the final watering point, and ascends to the saddle of Kilimanjaro, between the peaks of Kibo and Mawenzi. The vegetation thins out as we enter the desert-like alpine zone (approx. 4,000m) and, once we cross the saddle, Kibo peak comes into view. The saddle is an alpine desert that resembles a lunar landscape. Be careful to notice signs of altitude sickness. This seven-hour walk will be taken at a slow pace. We will spend the night at Kibo Hut (4,703m), a comfortable stone construction (no running water at Kibo Hut). Few plants other than lichens and grasses survive in these conditions.
Day 5
Shortly after midnight, we will commence our climb to the summit of Kilimanjaro, since it is easier to climb the scree slope to Gillman's Point (5,861m) on the crater rim when it is frozen and an early start for the six-hour hike improves our chances of reaching the summit in time for sunrise. From Gillman's Point, it is a further two-hour round trip along the crater's edge to Uhuru Peak, the highest point in Africa. From the summit, it is downhill all the way to Horombo Hut where we will spend our last night on the mountain.
Day 6
Today's descent continues past the Mandara encampment to the bottom of the mountain, where each hiker will receive a well-deserved certificate. From here, you will be transferred to a base hotel in Moshi for dinner and overnight
Day 7
After breakfast, transfer to JRO Airport via Arusha.
Mandara Hut 2700m. This is a group of comfortable, wooden A-frame huts. The largest cabin has a downstairs dining area and upstairs dormitory with bunk beds and mattresses; smaller huts sleep 8 each. The total capacity is 60. Water is piped into the site from springs above and flush toilets are behind the cabin.
Horombo Hut 3720m. The buildings are similar to Mandara, but total capacity is 120. Water is piped from the stream behind the huts. There are platform toilets 80m down the slope and new flush toilets within the complex of small huts.
Kibo Hut 4703m. This stone house with a small dining-room & dormitory rooms has bunk beds & mattresses for 60 people.