Testimonials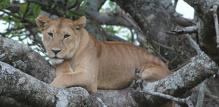 This was our first time to Africa and we loved every minute of it. We started in Nairobi, then drove to Tanzania for our safari in Lake Manyara National Park, Serengeti National Park & Ngorongoro Crater, and finally we spent a few night in Zanzibar. The whole trip was excellent. Our driver was excellent and the lodges were all better than we expected. We especially loved Zanzibar at the end. Thank you so much Travel Wild. We hope to come back next year.
Keith R.
Our family is now safely back in the United States....still a little tired but very, very happy. Before too much time goes by I just wanted you to know what a wonderful time we had in Kenya and thank you for all your arrangements. The vow renewal at Mara Intreprids Camp was absolutely perfect. That camp staff put on a great show and exceeded my expectations. The entire staff participated and treated us as royalty. It has provided us with a beautiful memory. Most importantly, I want to tell you that Julius Katana was much more than a driver/guide to my family and me. Over the course of our trip he became a true friend and a member of our family. He is patient, kind and was willing to do anything to make our trip a success. His wonderful sense of humor helped carry us over the bumpy Mara roads. I can't tell you how lucky you are to have him as a member of your company. Thank you so much again for all of your efforts. All the arrangements were perfect and has given my family a lifetime of stories to tell.
Stu N.
Travel Wild handled our group of 118 pax from arrival until departure. 118 guests stayed for 14 nights in Kenya, including Nairobi, safari and beach. All transfers, accommodation, excursions, lunchboxes (incl. special meals), safaris and the beach holiday (including a conference) went perfectly well. Travel Wild was indeed well prepared and the whole 2 weeks ran very smooth. The feedback from all of the guests was only positive after the trip, and they where indeed very pleased. Very professional service from start to end and we highly recommend their services. We will definitely work with Travel Wild again.
GA.B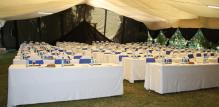 Travel Wild handled our 2012 conference in the Masai Mara that lasted 5 days. With over 150 people at the conference it was quite an undertaking. Travel Wild took care of everything from chartered flights, to accommodation, to game drives, and more. They helped us to pull off an amazing conference in the middle of the Masai Mara. The conference breaks consisted of game drives and unique activities (bush breakfast, Masai dancers, etc) every day. We couldn't have asked for a better partner in helping to organize every aspect of our conference. I highly recommend Travel Wild for any others looking to host incentive or conference events.
M.M